Sale!
2 Pack Baby Fresh Fruit Feeder Pacifier with Dust proof Cover Silicone Infant Teething Toy
Facilitate healthy eating!
MORE ATTRACTIVE VALUES FOR HAPPY PARENTING
YOU'RE IN GOOD HANDS WHEN YOU PURCHASE FROM US
With MESS-FREE baby fruit and vegetable pouch, you simply have to place diced fruit or vegetables, snap it shut, and you're ready to go! Something so simple comes with so many features and benefits for your baby!
?Give Your Baby Nutritious Foods!

The Infant Silicone Pouches can be used for sucking various kinds of food except for liquid food, which balances the nutrition of your toddlers and makes your kids grow healthily. Moms can relax knowing that their little one can be introduced to solid foods through our food feeder. The tempered texture nipple holes DO NOT allow chunks of food through which could induce choking.
? Help Babies Learn How Food Tastes
Our baby mesh feeder and dust-proof caps were made by food grade PP while pouches were made by food-grade silicone.
Lovely pig handle helps babies to grasp the fruit feeder for teething with little hand easily and start chewing or biting the food and tasting the flow of juice from the small hole of pouches.
Benefits
Fresh Food Feeder
STEM Education Concept
Educational Puzzle
Help To Build Teamwork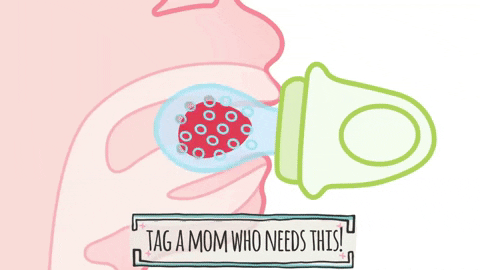 Things You Need To Know
Feed Your Baby Safely
& Conveniently
Safety of Babies is
Priority For us
Easy to Carrying &
Sterilize
Stand-Up Silicone
Feeder Makes Baby
Feeding A Breeze
HIGH QUALITY, SAFE AND HEALTHY
100% Food Grade PP Safe Lock
Click "Add To Cart" NOW to take advantage of our LOWEST PRICE ever!